Sinful Ever After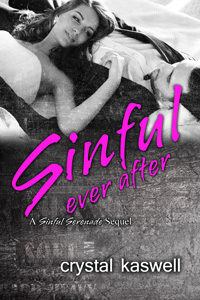 Available NOW – Get it HERE
Announcing Sinful Ever After, book five in the Sinful Serenade series. This collection of sequel novellas–one for each couple– follows the men of Sinful Serenade, and the women they love, as they figure out what their future holds.
Sinful Ever After is a collection of four sequel novellas, one for each couple in the series.
Sinful Ever After Except
***please note that text is not yet edited***
Megara
Thankfully, we're in Miles's sedan and not on his death bike. The motorcycle has grown on me in the last year, but I'm in no state for it today.
I aspire to make conversation but my lids are heavy. I close my eyes, rest my head against the window, and drift in and out of sleep.
Miles squeezes my hand. "You're exhausted, aren't you?"
I nod.
"Was thinking about taking you to a hotel in Beverly Hills and fucking you against the wall."
"You were not. You're teasing."
"I was thinking about it." He smiles. "Wasn't a plan yet, but it occupied a lot of space in my thoughts."
"It's been twenty nine days."
"I've been counting."
"I think you're as responsible for my hand cramps as finals are."
He laughs. "For once, I beat school."
"Miles, it's been twenty-nine days."
"It has."
"And we aren't having sex right now."
"Better change that soon." He squeezes my hand.
I squeeze back. He rubs the space between my thumb and my pointer finger with his thumb. It's sweet, intimate. He's really here. We're really in the same space together.
And I'm really exhausted.
I press my eyelids together and I get lost in the rhythm of the road.
My hands go to the zipper of my hoodie. I have a surprise for him, but I'm terrified to reveal it. This is serious, forever, the next level of commitment.
It's been a year, but we haven't talked much about forever. A while back, he asked about getting married. I said I wanted to wait until I was done with my first year of medical school, and that was it. We haven't talked about anything since.
We haven't even discussed getting a place together. I stay with my parents during the week—they live twenty minutes from campus—and with Miles on the weekends—his place is nearly two hours from school, depending on the traffic.
The zipper is cool against my skin. I pull it down an inch but I can't will myself to pull it down anymore.
Soon. I need to do it the first chance I get. Before the sex. I don't want him getting derailed when we finally get out of our clothes.
It's been way too long.
Miles changes lanes and exits the freeway. He pulls onto a familiar street. We've been here before. Together.
Oh.
There's a cemetery on our left.
The cemetery where his uncle is buried.
It's a strange choice for a celebration, but it's perfect.
Miles parks and helps me out of the car. He slides one arm around my waist.
His eyes go to the ground. I'm not sure I've ever seen him bashful before.
"You don't have to explain," I say.
"Sure you don't want a celebration with champagne on the beach?" He leads me through the wrought iron gates.
"Neither one of us drinks."
"Sparkling apple cider."
"I don't like sparkling apple cider."
"What if I'm licking it off your tits?"
"Then you're the one drinking it."
He laughs. "You really are cute."
It used to annoy me when he called me cute, but I've grown to appreciate the compliment.
The shining sun casts a glow over the vivid green grass. The world is alive today. Except for the mild chill in the air, there's no signs of winter here. The sky is bright blue and free of clouds. The air is somewhere between crisp and warm.
I follow Miles to his uncle's grave. Damon Webb. Father. Uncle. Friend.
"We were here a year ago." Miles's eyes fix on mine. "You remember what I said about Damon?"
"How he'd sit you down and tell you to stop running from your feelings?"
"Yeah. I always have a lot of time to think when we're on the road. That's how it started, me using drugs. Needed a way to shut out my thoughts. Never did learn to turn them off." He runs his fingers through my hair.
"I know." I lean into his touch. "Everyone runs sometimes."
"You don't. You never did."
"Yes, I did. Just I used school instead of drugs." I stare into his clear blue eyes. I don't want to run either.
Here goes nothing. I press my lips together. "I have to show you something."
"Let me go first." He presses his palm into my lower back. "Okay?"
I nod.
"This tour, it felt like we were traveling twenty hours a day. I had a lot of time to myself. Mostly, I thought about you. About us having a life together. About how much brighter my life is than it was before I met you. Used to be the only thing that soothed me was writing a song or stepping on stage. Then I met you." He stares back at me. "I know I promised to wait until you finished your first year of med school, but I have to do this now. I have to do it here." Miles lowers himself onto his knee.
He… he's really doing this.
He pulls a ring box from his jeans and flips it open. "Megara Smart, will you marry me?"